Net Zero Waterfront
The layout of the house is driven by the stunning views of the surrounding ocean and shoreline, leading to open interior spaces with high ceilings, large windows and clean detailing.
The plan comfortably supports cozy small-scale use or entertaining for larger gatherings.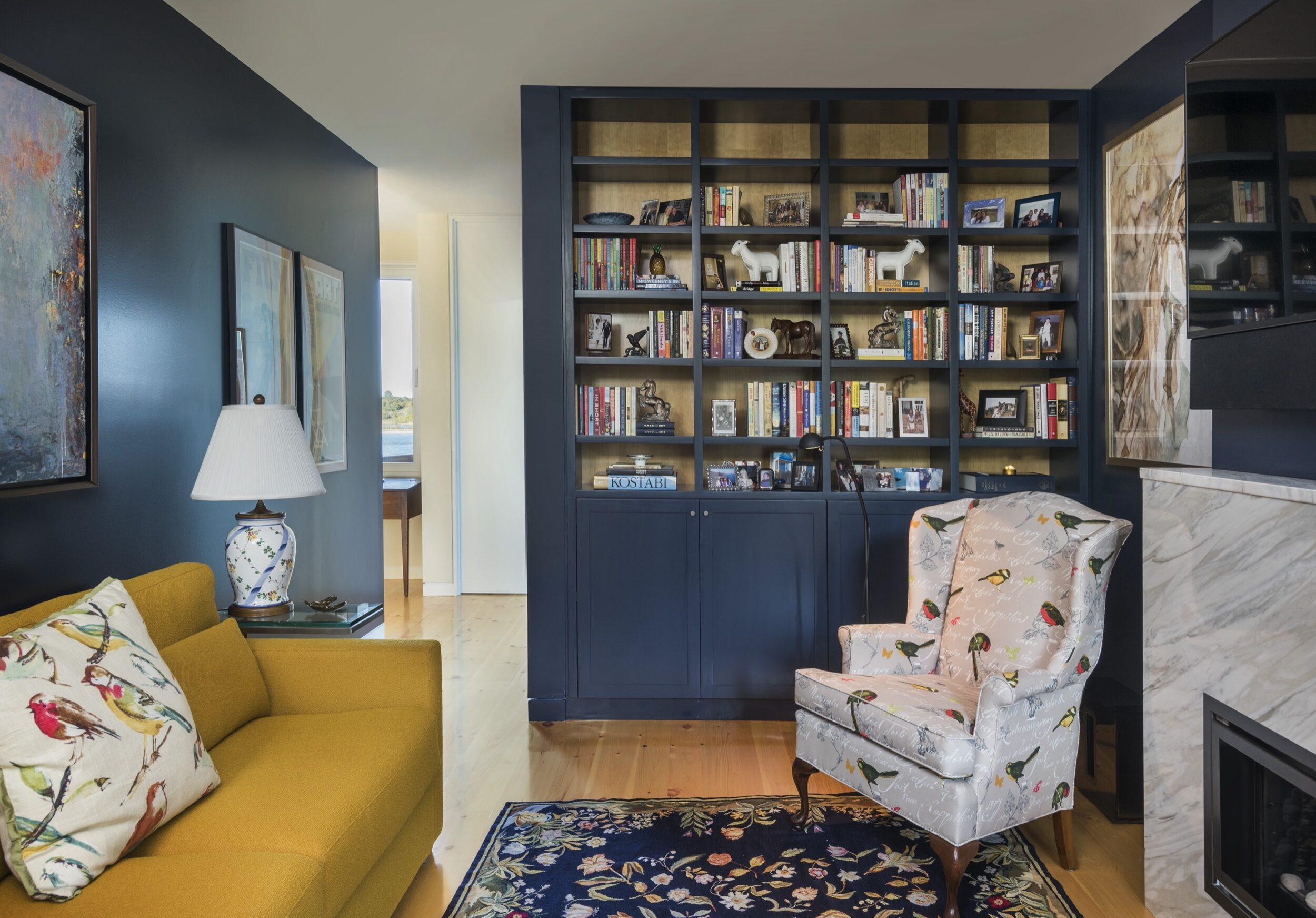 The house was built on the foundation of an existing underperforming and poorly constructed home. The existing structure was not worth saving, but reusing the foundation allowed us to greatly reduce site impact in an environmentally sensitive shoreline and avoid the embodied energy of a new concrete foundation. Reusing the foundation required the new design to comply with the existing 42′ square footprint. We extended the north side of the house with a 3′ cantilever, but otherwise held to the existing foundation plan and deck perimeter.
The client held a firm requirement to use only environmentally conscious materials to create a net-zero electricity house, with minimal future maintenance requirements for the exterior finishes. The wood structure is insulated with dense-pack cellulose and rigid polyiso insulation, resulting in a super-insulated structure with a very low infiltration rate of 0.56 ACH50.
The exterior finishes include factory coated aluminum siding and roofing, which are manufactured with recycled materials, and can be completely recycled at the end of their lifecycle. Domestic decay resistant wood products were used for the exterior decking to avoid washing harmful chemicals into the nearby bay. Interior finishes include low-VOC paints and sustainably harvested solid pine flooring.
Summer overheating is controlled by generous 3′ overhangs to shade the large south facing windows. Operable sashes were carefully organized to reduce the number of screens in order to maintain the most uninterrupted views of the water, while still allowing extensive circulation of ocean air throughout the house. Exterior spaces include a screened porch adjacent to the kitchen and large wrap-around deck with views of the surrounding coastline.
Awards:
AIA Rhode Island Honor Award – Residential
Publications:
Fine Homebuilding, Featured Home
Rhode Island Monthly
Fine Homebuilding –  Best Of Energy Smart Homes
Project Team
Energy and Systems Consultant
Civil Engineer and Permitting