Union Crossing Mill Renovation
Project PDF
This project started when the owners, Lawrence Community Works, a community-based development organization, selected C&H in association with Steven Winter Associates to develop a master plan for a complex of textile mills on the Merrimack River in Lawrence.
From a historic textile mill, we created 60 comfortable, affordable, energy-efficient units with great views of the river, the adjacent mills, and downtown Lawrence.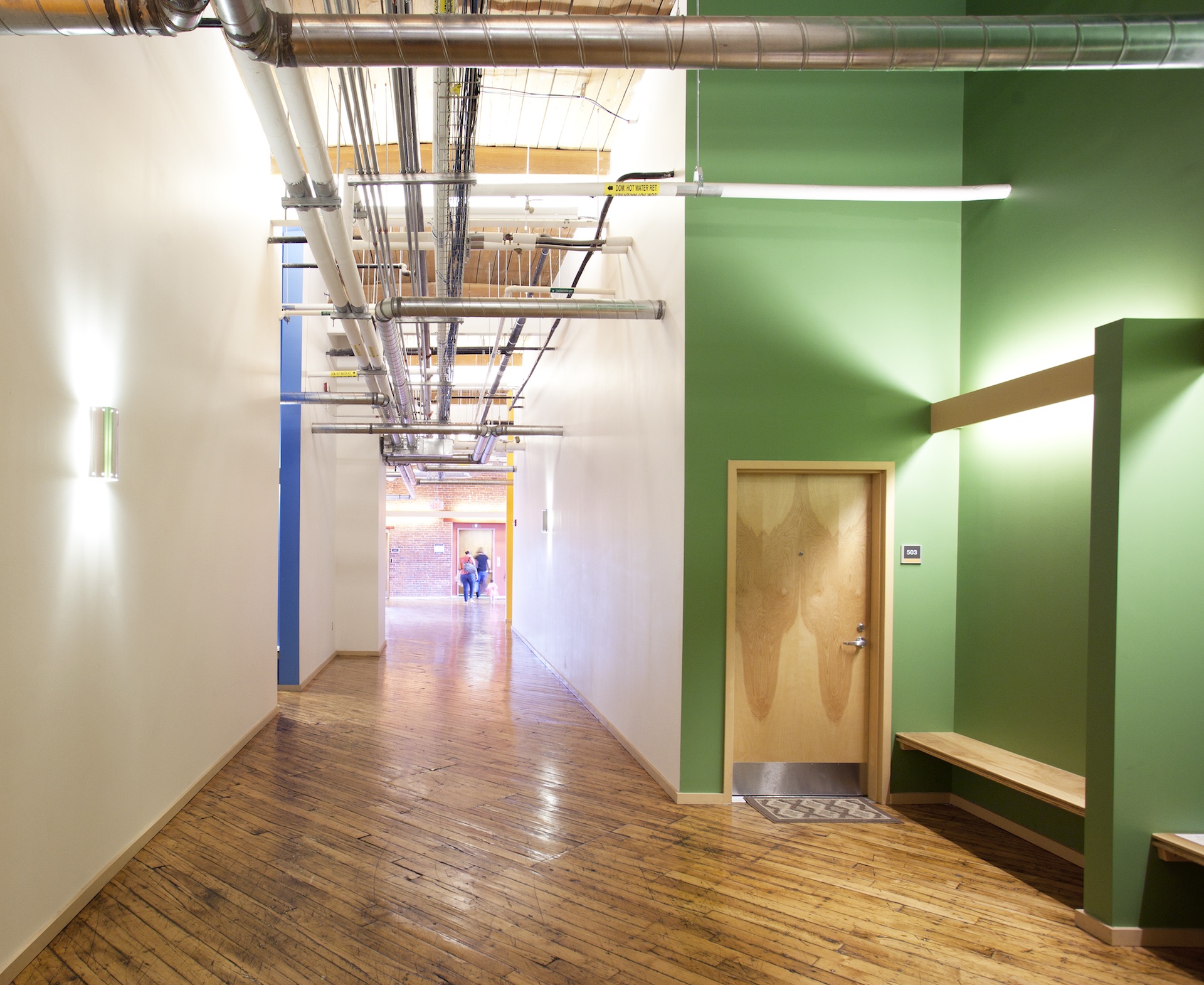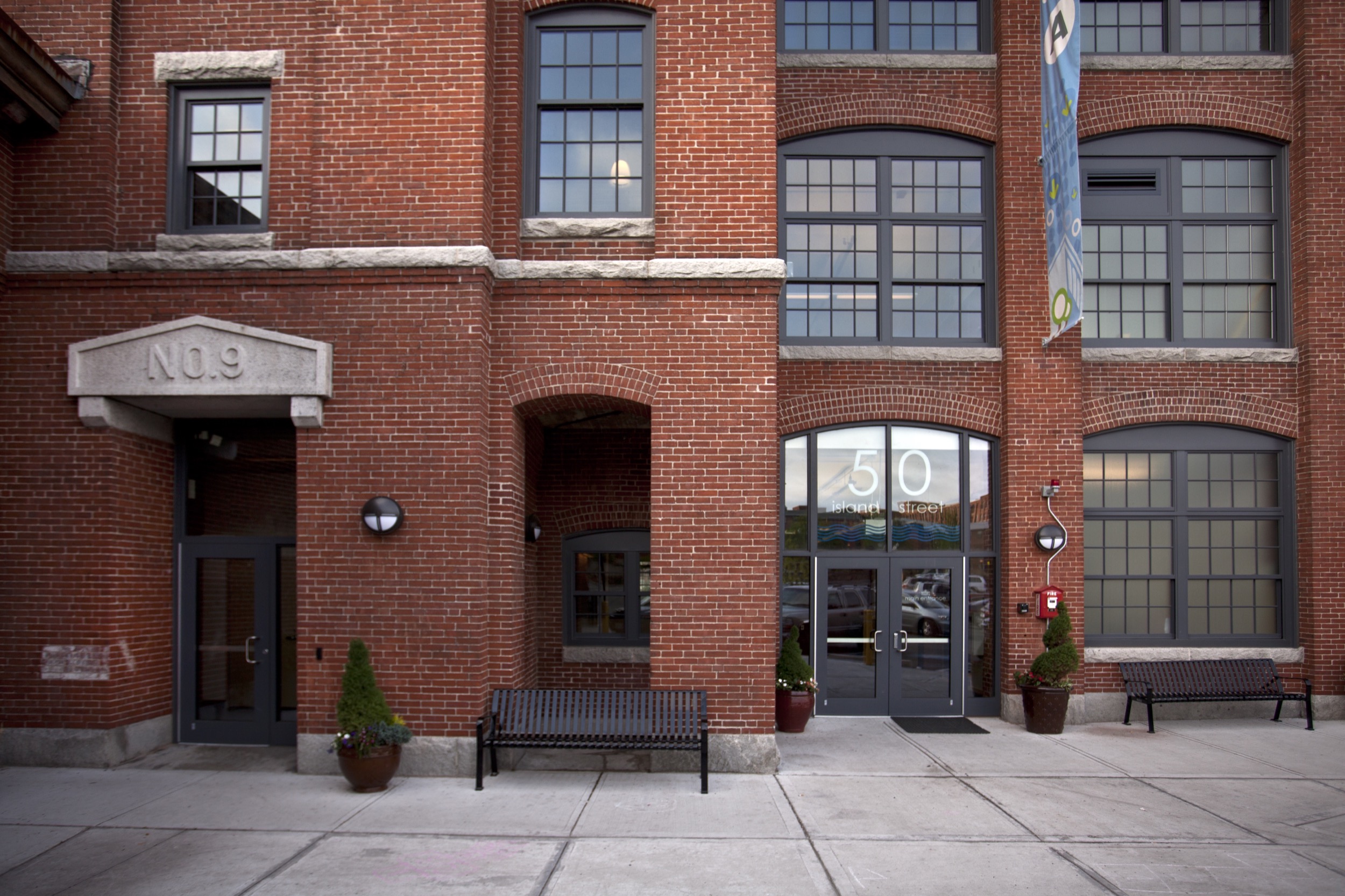 We approached Union Crossing collaboratively with a bold vision for transforming, not only the historic mill interiors, but the pedestrian experience and the entire mill complex as well. The Master Plan focused on community spaces and addressed the 100-year flood zone by creating a new pedestrian deck and primary entrance at the second floor that aligned with Island Street to provide much needed green space in the City.
Inside the building, the design called for stacking town house apartments – consolidating circulation on two levels instead of four, and creating a strong sense of community.
The project received Federal and State Historic Tax Credits, as well as an ARRA grant from the Department of Energy Resources. An overall tight budget and multifaceted financing structure, as well as strategic partnerships with community organizations meant that C&H had to work that much harder to maintain our high standards of building performance than in a less complex project with similar aspirations.
Project Details
The Union Crossing project utilized an integrated design approach from the very beginning and engaged hundreds of community members and established rigorous performance standards for the project with a focus on health, energy-efficiency, and sustainability.
The project site is a reclaimed brownfield/industrial zone which had suffered from years of neglect and vacancy before this adaptive re-use.
A collaborative, cost-effective, and efficient parking strategy was designed, featuring 550+ spaces sufficient to support all existing and planned development in the area.
Improved pedestrian, bike and vehicle circulation connects the East Island and Center Islands through new sidewalks and street improvements. There is a secure bicycle storage room on the first floor.
Reduced municipal costs for water supply and treatment are achieved through innovative rainwater harvesting. New storm water treatment systems and tree box filters are used to cleanse parking lot runoff, minimize flooding, and contribute cleaner water in the Merrimack River. Native plantings in the parking lot and playground also provide habitat for birds.
New, operable, aluminum R-3.5 windows were installed in tenant spaces throughout the building. Exterior brick walls were insulated with 3.5 inches of closed-cell spray foam to move from the original R3 to R22.
95kW of rooftop photovoltaics were installed and financed through a purchase plan agreement with Boston Community Capital, providing much of the anticipated common electrical needs. This is one of the largest residential PV installations in Massachusetts
There are community features designed into each floor with bright corridors and entry alcoves with benches at every unit; shared common spaces and laundry rooms. While the renovation is thoroughly modern, the history of the building is alive at every turn — interior colors were chosen from fabric sample cards found in the existing mill and the wooden floors still show the marks of where mill equipment stood for a century. Artwork throughout the building and site reflects the spirit and history of the city, including poetry installations in the entries and a mosaic tile mural in the lobby depicting the buildings and ecology of the region.
Separate trash and recycling chutes on each floor encourage recycling and reduce waste.
Healthy home design utilizing low-VOC materials and finishes to maximize indoor air quality and ambient comfort reduces health risks for a vulnerable population (Lawrence has one of the highest pediatric asthma rates in the state).
The project includes an on-site fitness center, playground and community gardens, and space has been made for a future day care center serving 136 infants, toddlers, and preschoolers.
Read a Boston Globe article that references the Union Crossing project here.
Project Team
Energy & Systems Consultant
Code and Fire Protection Consultant